Director: Helmut Zarbl, PhD
Deputy Director: Debra Laskin, PhD
Business Manager: Erik Bopp, MS
Click here for larger view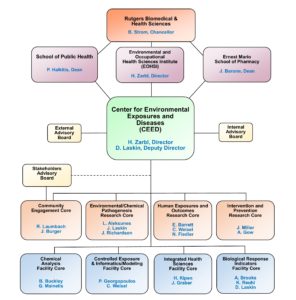 The purpose of The Center for Environmental Exposures and Disease (CEED) is to provide an administrative infrastructure and technical support to foster multidisciplinary collaborations between researchers. The Center also provides members with valuable technical support through its five facility cores. Descriptions of these cores and the services they provide can be found under "Facility Cores" on the navigation menu.
New members may be nominated by current Center members, or may self-nominate by a letter to the Director. The CEED Internal Advisory Board evaluates nominations on the following criteria:
Commitment to the mission of the Center

An active environmental health sciences research program that includes grant funding and a sustained publication record

Use of Center Facility Cores

Participation in Center meetings and events

Service as a mentor to junior faculty interested in environmental health
New members may include junior faculty, new clinical investigators, newly recruited faculty, and faculty in career transition. New members often become involved with CEED through the Pilot Project Program, which often partners newer investigators with more senior faculty who act as co-investigators or mentors.
Active members participate in CEED meetings (usually monthly during the academic year) and report on their facility core use, publications, and research funding to keep the Center profile current. They are also expected to cite the Center grant (NIEHS ES005022) in publications. Members are encouraged to participate in CEED-sponsored Community Outreach and Education activities at least once a year, and to mentor junior investigators. Many members attend EOHSI/NIEHS Seminars, which feature both local and national environmental health researchers.
Faculty members with a lapse in grant support will not automatically have Center membership discontinued. In fact, the Center will attempt to facilitate re-acquisition of funding, which may come through collaboration with other Center members. The Center's Career Development for Environmental Health Investigators program, in conjunction with the EOHSI Faculty Development Program, can also be used to reinvigorate a member's research. However, in the event of a sustained loss of research funding (greater than 3 years), the Center discontinues their membership. The Center Director makes membership decisions after consultation with the Internal Advisory Board.