Director: Helmut Zarbl, PhD
Deputy Director: Debra Laskin, PhD
Business Manager: Erik Bopp, MS
Center Organizational Chart
Click here for larger view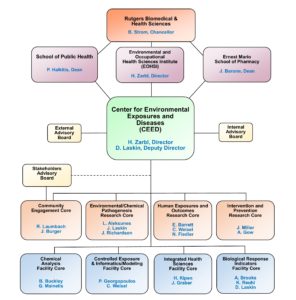 Members and Membership Criteria
The purpose of The Center for Environmental Exposures and Disease (CEED) is to provide an administrative infrastructure and technical support to foster multidisciplinary collaborations between researchers. The Center also provides members with valuable technical support through its five facility cores. Descriptions of these cores and the services they provide can be found under "Facility Cores" on the navigation menu.
New members may be nominated by current Center members, or may self-nominate by a letter to the Director. The CEED Internal Advisory Board evaluates nominations on the following criteria:
Commitment to the mission of the Center
An active environmental health sciences research program that includes grant funding and a sustained publication record
Use of Center Facility Cores
Participation in Center meetings and events
Service as a mentor to junior faculty interested in environmental health
New members may include junior faculty, new clinical investigators, newly recruited faculty, and faculty in career transition. New members often become involved with CEED through the Pilot Project Program, which often partners newer investigators with more senior faculty who act as co-investigators or mentors.
Active members participate in CEED meetings (usually monthly during the academic year) and report on their facility core use, publications, and research funding to keep the Center profile current. They are also expected to cite the Center grant (NIEHS ES005022) in publications. Members are encouraged to participate in CEED-sponsored Community Outreach and Education activities at least once a year, and to mentor junior investigators. Many members attend EOHSI/NIEHS Seminars, which feature both local and national environmental health researchers.
Faculty members with a lapse in grant support will not automatically have Center membership discontinued. In fact, the Center will attempt to facilitate re-acquisition of funding, which may come through collaboration with other Center members. The Center's Career Development for Environmental Health Investigators program, in conjunction with the EOHSI Faculty Development Program, can also be used to reinvigorate a member's research. However, in the event of a sustained loss of research funding (greater than 3 years), the Center discontinues their membership. The Center Director makes membership decisions after consultation with the Internal Advisory Board.
Internal Advisory Board
Role of the Internal Advisory Board
The Internal Advisory Board (IAB) is comprised of the Director and Deputy Director along with senior leadership of the Research Cores and Facility Cores:
Human Exposures and Outcomes (E. Barrett, N. Fiedler, and C. Weisel)
Environmental/Chemical Pathogenesis (J. Laskin and J. Richardson)
Intervention and Disease Prevention (J. Miller and A. Gow)
Chemical Analysis Facility Core (B. Buckley A.N. Kong, C. Weisel)
Controlled Exposure Facility Core (C. Weisel)
Integrated Health Science Facility Core (J. Graber and H. Kipen)
Biological Response Indicators Facility Core (A. Brooks, K. Reuhl, D. Laskin)
Informatics & Computational Toxicology Facility Core (P. Georgopoulos)
Biostatistics Facility Core (P. Ohman-Strickland)
Community Engagement Core (R. Laumbach and J. Burger)
Other: M. Gochfeld
The IAB has been extensively involved in the development of CEED's strategy for NIEHS funding renewal and in response to new environmental health developments such as Hurricane Sandy in late 2012. Meetings of the IAB have proven critical for the identification of cross-Core opportunities within the Center. The IAB meets monthly to provide advice on the scientific progress and administrative activities of the Center. Formal minutes are taken at these meetings and placed on file in the Director's office. Subjects for discussion include:
Progress in achieving Research Core goals and Facility Core use and goals
IHSFC use, opportunities and developments
Establishment of new research areas
Identification of new faculty whose expertise could be recruited into Center research
Need for developing new technological capabilities
Equipment needs
Review of Pilot Project applications, outcomes and establishment of the funding priorities
Interactions with local community groups, with disease advocacy groups and with local, state and government agencies
External Advisory Board
Role of the External Advisory Board
The advice of the External Advisory Board (EAB) represents a crucial "reality check" of the Center's activities and progress in achieving its goals. The EAB meets annually to review Center progress towards achieving its stated goals, based on presentations by the Director, and by Research and Facility Core leaders. EAB Members are also asked to review Pilot Projects in their areas of expertise.
Trevor M. Penning, PhD is the Chair of the EAB. He is the Director of the NIEHS Center of Excellence in Environmental Toxicology at the University of Pennsylvania, and a Professor in the Departments of Pharmacology, Biochemistry and Biophysics, and OB/GYN. He is a recognized expert on the role of xenobiotic metabolism in toxicity and carcinogenesis, and a leader in analytical chemistry and mass spectrometry. Dr. Penning has had longstanding interactions with CEED, most recently as a participant in a joint inter-Center grant from the NIEHS, and is familiar with many investigators and the research programs at CEED. He also serves on the EAB of the NIH funded Rutgers CounterAct Research Center of Excellence.
Martin Philbert, PhD, FRSC is Dean of the University of Michigan School of Public Health, following 7 years as Senior Associate Dean for research at the school. Dr. Philbert is also a Professor in the Department of Environmental Health, and a Senior Internal Advisor for The Michigan Center on Lifestage Environmental Exposures and Disease (M-LEEaD), an NIEHS Center. He was previously a Research Assistant Professor in Rutgers Neurotoxicology Laboratories. He has maintained a continuously federally funded portfolio of basic research activities throughout his career. Most recently his work has been funded by the National Institutes of Health, the Department of Air Force and the National Cancer Institute. At the national level, he is recognized for his expertise in neurotoxicology and experimental neuropathology. He is the author of numerous research publications in top peer-reviewed journals, and of one book. Active research activities include experimental neuropathology, nitrocompound-induced encephalopathies, mitochondrial mechanisms in non-neuronal cell death, development of nano-pptical chemical systems for in vivo physiology, and nanostructure-based imaging and treatment of tumors of malignant gliomas.
Petros Koutrakis, PhD is Professor in the Department of Environmental Health at Harvard University. He is the Head of the Exposure, Epidemiology and Risk Program and Director of the EPA/Harvard University Center for Ambient Particle Health Effects. Dr. Koutrakis researches the health effects of air pollution worldwide and developed ambient particle concentrators and high volume samplers that are used to conduct human and animal inhalation studies. He has also developed a personal ozone monitor, a continuous fine particle measurement technique and sampling methods for a variety of gaseous air pollutants.
David Peden, MD is Director of the Center for Environmental Medicine, Asthma and Lung Biology at University of North Carolina at Chapel Hill School of Medicine; and Professor of Pediatrics and Medicine, Chief, Division of Immunology & Infectious Diseases, Department of Pediatrics. He is an expert on the effects of indoor and outdoor air pollution on lung and cardiovascular health, with an emphasis on individual risk, in susceptible populations including those with allergic diseases, asthma, chronic bronchitis, COPD and multi-system states such as obesity and diabetes.
Sara A. Quandt, PhD is Professor of Epidemiology & Prevention, and a Member of the Women's Health Center of Excellence for Research, Leadership, Education, and the Maya Angelou Center for Health Sciences at Wake Forest University School of Medicine. Her research interests focus on education outreach, environmental sciences, epidemiology, information sciences, minority health issues, and disease prevention.
David A. Savitz, PhD is Professor of Community Health (Epidemiology), and Obstetrics and Gynecology in the Department of Community Health at Brown University. His research is focused on reproductive and environmental epidemiology. Dr. Savitz conducts studies on the causes of adverse pregnancy outcome, including miscarriage and preterm birth, as well as pregnancy complications, birth defects, and child health problems. His environmental interests include a wide range of chemical and physical exposures, including perfluorinated chemicals, pesticides, drinking water treatment by-products, and non-ionizing radiation.
Cheryl L. Walker, PhD is the Welch Chair and Director of the Institute of Biosciences and Technology at Texas A & M Health Science Center. She is internationally recognized for her contributions to understanding mechanisms and genetic susceptibility underlying chemical carcinogenesis, and is also a leader in research defining the role of epigenetic mechanisms in environmental carcinogenesis. Dr. Walker's most recent studies focus on the role of the microbiome in disease. She is the Director of a new NIEHS Center at the Texas A&M at Houston, and a member of our inter-Center Joint Mentored Partnership Program.
EAB members are selected based on multiple criteria, including familiarity with NIEHS Core Centers programs and scientific excellence in specific areas of Center research. Recommendations for EAB members come from the Center membership at large and are discussed by the IAB. EAB members normally serve a term of five years. Input on replacement at the end of a term, or upon resignation, will be sought at the monthly NIEHS Internal Advisory Board meeting.